The BRETT DENNEN Effect
"you are a map
I found you and suddenly I knew where to go"
-'You Are A Map' by Kendall Patrick
At first, I thought I should go to New York. I had been there a year prior to watch 5 Hanson concerts…(I am not ashamed), and felt like I had a really strong spiritual connection with the city. I made friends with a few girls who lived there and had multiple synergetic experiences. After deliberating that it was going to be too complicated and pricy to get there, I changed my route. Austin. Why?
…
That past summer, my girlfriend and I were on Saltspring Island for a wedding. During one of our island cruises she put on a song called "Ain't No Reason" which I had never heard before and was instantly obsessed with. "Who is this?" I asked. Brett Dennen's voice was refreshingly unique. The songwriting was undeniable in it's lyricism, broadmindedness, and thoughtfulness. It made me feel connected to the world and connected to myself, as good folk artists tend to affect in people. I listened to it on repeat for a while and even tried to cover it myself.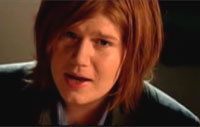 I watched the video for it once and felt no connection to his physical appearance. At the time of the video he was fuller in the face and his red hair was styled in a strange way. Fade out.
Months later, I was standing in the bathroom doing my hair when my girlfriend called me over to watch a new video of Brett Dennen playing live at Sirius Radio. He looked about 10 years younger, and presented a whole new style with his toque, giant glasses, and bare feet. I was again instantly mesmerized, only this time by his completely out of the box, astonishingly unconventional and unique presentation that came equipped with such unprofessional vocals that I felt liberated inside. This guy seemed to cross all boundaries and was adorably comfortable with himself. He reflected back to me a freedom that I was lacking, and one that instantly became my guiding light.
I proceeded to watch every Brett Dennen video on Youtube, multiple times over. One of his most recent interviews at the time was held at a music festival in Austin called South by South West. For some reason it made sense to me that since Brett Dennen played there, naturally, I should also play there. It was too late to apply, but someone told me it is important to go to these things even if you're not a performer. I decided to make SXSW my main touring destination, and plan backwards from there.  I later realized it didn't leave me quite enough time to save money or book gigs, so I then shortened my route to have LA as my furthest destination and do it in May instead. Since Brett Dennen lives in L.A., I thought, I will travel to where my heart already lies. This plan, finally, made the most sense to me of all. I felt doubly sure of my decision because of a direct Brett Dennen lyric that I listened to daily which states, "Follow your heart and you won't get lost." And so, the final decision was found. Hello, L.A.