Day 4 My first order of business today was attending the panel on Touring. It was 2 hours long and full of useful insights. The best tips I got were as follows: 1) Always make a worst case scenario budget. Spend the time fund raising, saving, applying for grants, etc. and consider all costs. What costs? Fuel, accommodations, food, possible vehicle repairs, miscellaneous transit, insurance for gear and health (especially for international touring), etc. 2) To get people out to shows, spend time researching like bands in the cities you're looking to play in and double up on a bill. Offer exchanges with bands to help them gain exposure in your area and with your email list. Planning is crucial to get value out of a tour. Another section of dialogue they covered was how to effectively sell yourself to a promoter who could help get you a show.
Touring is an investment. It costs a lot and requires repeated travel in the same areas to build a following. Sacrifice. I am always worried I'll lose my job because of all the time I have to take off in order to make investments such as touring and attending festivals across the country. Sacrifice. Instead of putting thousands of dollars a year into a savings account or mortgage, I put it into touring and recording. Building, constantly building. Sacrifice. This is the dream. The goal. And I do it because I have to. Because I know that this is what I'm meant to do. When you know, you know. And so the sacrifice is unavoidable. The guarantee is never there. The closest thing I'll ever have to a guarantee is to never give up. Because giving up is the only certainty… certainty of failure. And that is life. We do what we can, and hope for the best. Follow your heart and you won't get lost, right Brett Dennen?
(On another note, I wish taking cabs wasn't so expensive because the convenience of standing on the street for two minutes max and waving my hand just to get a lift wherever I am, whenever I want is so awesome. )
When I got home from the panel, my wheels were turning, so I sat down and wrote big blog number two. It was about 5 or 6 when Lena and the boys came back with bags of food. Holy God – I hadn't eaten a thing yet. Sometimes remembering to eat does not come easily. Sushi, chocolate, granola bars, smoothies, fruit and vegetables. Ah, sweet desperate indulgence.
Ciro spent the whole afternoon at Staples trying to get business cards and Noisetrade cards printed. Yesterday, he and dad had lunch with the publicist. This was their first meeting in person. It's hard to say how it went. I don't think any magic happened until she saw us play that night at the Supermarket.
Funny thing about that night. I felt SO ON at Brooklynn, but not really at all there. Perhaps it was my irresponsibility with eating on time. Perhaps it was because we played so early in the night, or because we could clearly see the judges sitting in front of the stage with their score sheets. It didn't seen to matter though because apparently no one could tell. The feedback we received was overwhelming. One if the judges actually enthusiastically approached me with a lengthy reverence. It went on like that from a photographer to a record label scout and best if all to Paula, who although I still haven't actually met, said very exciting and promising things to my dad. You have to understand this woman is very "business" and very connected in the industry. I am confident we made strides in impression upon the right people this week. We did well in our showcase too, points wise. Amongst stiff competition we got third that night. It was another night of all four Bettys networking and representing the band all over the place and taking care of business with charming sincerity. I love them so much.
When we got home I finished the blogs and we had a check in. This time we mixed personal and business check ins, with feedback from our acting manager. The consensus is that time is all we need to reach the next level. Tightness, developing dynamics within songs, and improving on what we've already got going on, like banter, merchandising, and branding.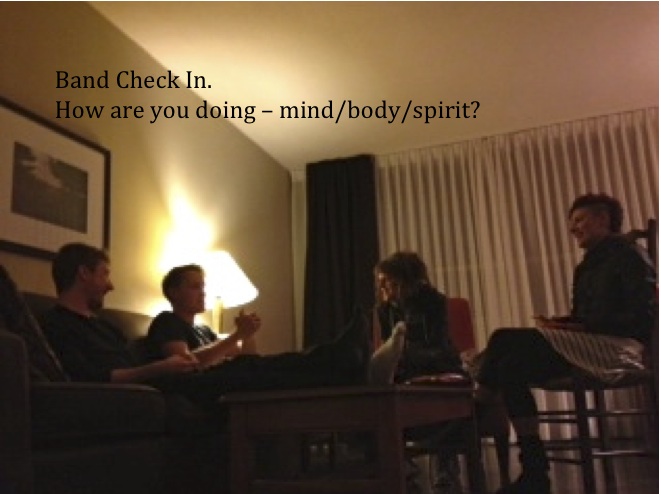 Geeze is it 4am again??
Honestly: how could I have afforded to record 3 albums, go on tour, or get my band to Indie Week to meet all these people? Not without the help I have received from you and my parents. There's only so much I can do financially at 13$/hour, 6.5 hours a day. My car payments are $360 a month, insurance is $160, rent is $575 and gas and food usually tip me over into my MasterCard. I owe the manifestation of my dreams to the help I have received. I am fully aware that I am dependent on the grace of this universe to get me from one stepping stone to the next. If I had to think logically, I would have said, "No, this isn't possible". But my heart says, "BELIEVE in the magic of your dreams, and the universe will open up to you". Well, maybe it was my audiobook that said that to me. In which case, thank you to my local library for lending me relentless faith.
Love Kendall Patrick
and the Headless Bettys
and Ciro
and Mom and Dad