I can safely say that none of us had very much sleep last night. The average was 2 hours. Whether it be from excitement, anxiety, or shirt making, lack of sleep made us all a bit like spaghetti people, travelling in a daze, in and out of bursts of energy and exhaustion across the country. We all found something to watch on the plane. Personally, I enjoyed a serious drama about a 16 year old boy dealing with his addiction to sucking his thumb. The next best thing I could find to Hoarders, which is my favourite show. Another favourite thing of mine is walking on the moving walkways in the airport. Lena and I got to feel like superheroes for about 14 seconds. Why everybody else chose to walk on the normal floor is the most mysterious part of my day. BORING!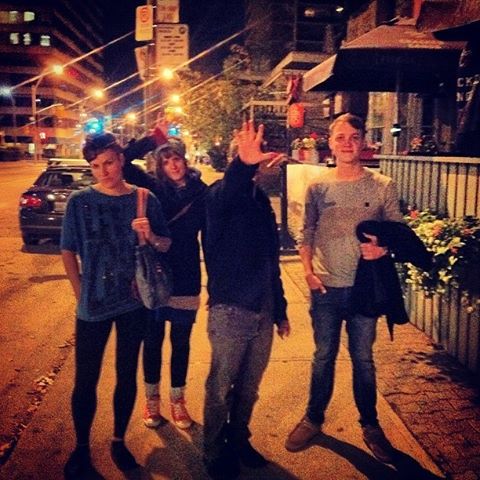 When we landed in Toronto, before we had even gotten off the plane, Ciro had a sudden bolt of brilliance and called an old friend who had moved to the city last year, and in 25 minutes she was waiting outside the airport in a giant vehicle with enough room for all of us and our luggage. (My parents took a train to their hotel, and apparently had a great time, so no guilt there.) On the drive there I sat in the back back seat (3 rows) by myself (voluntarily) and reflected on the situation. Gratitude and a desire to give back in any way to any one as soon as possible was the simple thought in my mind. Possibly too tired and hungry to actually feel anything, intellectually I knew that what was happening was a big deal, and it wouldn't be possible without the overwhelming support from all of you.
It was a bittersweet discovery when we walked into our hotel room. It is nothing beautiful but certainly spacious. A whole apartment! 2 bedrooms, a living room, dining room and kitchen! One of the closets smells like rotten milk, but everyone gets their own bed. We had a mind/body/spirit check in and got grounded and reconnected before hitting the streets in search of dinner. We all ate too much in a really comfortable, dark booth hidden in the corner of an Old English styled restaurant, 3 stories up. It is now 2:16 yet for some strange reason feels about 3 hours earlier. Either way, nobody is complaining about going to bed. Lena and I have to get up in just a few hours for a TV interview in Hamilton. More sleep deprivation! A cost very small for the reward of another day living our dreams.
Much Love,
Kendall Patrick and the Headless Bettys
and Ciro
and Mom and Dad